I just saw that there is a fun link-up with
Ashley
and
Erika
, so I'm going to join in...you should too!! :)
Hi friends! We're getting down to the wire for Easter outfits, and I admit, I haven't even started. I always make Isabelle's dress, but I've made a few for myself over the years as well, so that's what I'm planning on. With less than two weeks, I'd better get a move on it! :)
I'm not going to link any of these because they are just the results of a random Pinterest search, so you can find them super easily as well. Plus, I have no plans to actually buy them; they just represent the ideas I've had in mind...what do you think? I will also say here that I'm struggling a bit- I always get this idea of what a dress will look like on (what I want it to look like), and then I'm mortified and depressed if it doesn't match the image in my head. I feel like I had a more confident postpartum body
last
year than this year, and I'm blaming the darn cold for that! I try to stay active indoors, but let's be real, it is just not the same as being able to move outside.
So here are some ideas of the style I'm going for. I've got lots of patterns that I can tweak if necessary, but many that are similar or the same. Aren't they so pretty and feminine? I love the colors, too. Which one is your favorite? I can't decide!
I feel like I haven't shared clothing or outfit ideas in such a long time, but they are a part of everyday life, so I'm sloooowly climbing back on that bandwagon. :) Plus, I LOVE seeing what other Mamas put together. So many creative and pretty ideas!
Lastly, here's what's going on at Rose and Ruffle. I have been so, so busy-which explains some of the above-mentioned issues- but I am extremely thankful. Thank YOU for your support, it really does mean the world to me!
Here are some things that are READY TO SHIP and could be yours in a few days!
This photo is not doing the print justice, it's so darling! Size 5t/5
Sometimes simple is all you want... Size 4t/4
This is the perfect purple- not too pale not too bright! The lace adds such cute detail! Size 3t/3
And what Easter outfit would be complete without a sweet white eyelet bonnet??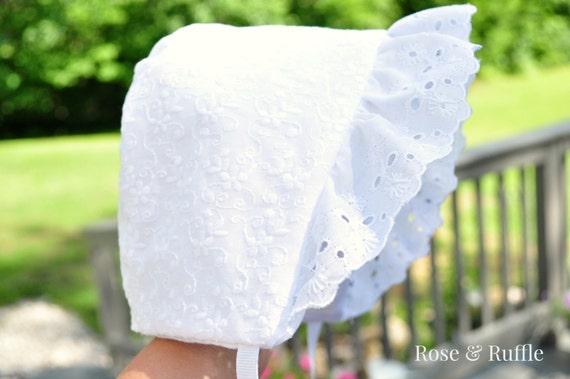 They are just a little bit different and the cutest accessory I know of. I just love them! I can take orders for a bonnet thru Thursday, in time for Easter, so if you're on the fence, take the leap now!! :)
What are you wearing for Easter this year? Do you like everyone to be coordinated or matching, or do you keep things super casual?

Okay, now I just HAVE to include some of my favorite Easter pics! Look at those adorable babies! Eek!

My very first Easter as a GIRL MOM!!!